U17 World Cup U17 World Cup: 'A bit of stage fright, plenty of resilience' – India defiant in defeat against USA Ashwin Muralidharan @AshwinMNair10 Last updated 2 years ago 23:45 10/6/17 FacebookTwitterRedditcopy Comments(0)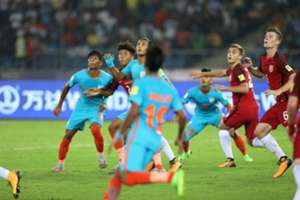 Indian Football Twitter U17 World Cup India U17 v United States U17 India U17 United States U17 It was in many ways an encouraging outing as India made their U17 World Cup bow, despite the scoreline reading 3-0 in favour of their opponents.. As the India U17 team lined up for the national anthem before their World Cup opener against USA on Friday, excitement and emotions ran high at the Jawaharlal Nehru stadium in Delhi as a near-packed house witnessed the first ever Indian team take to the field in a World Cup. However, the USA U17 team put a slight dampener on the atmosphere ninety minutes later as they ran out 3-0 victors. But considering the fact that these youngsters were playing at such a stage against a top quality youth side, India's performance has to be termed competitive and made for such a welcome sight on a grand stage. Obviously, the boys were a bit overawed by the occasion at the start of the game, which was to be expected given that they have never played in front of such crowds and have not played enough competitive games to understand how to react to pressure.  Article continues below Editors' Picks Why Barcelona god Messi will never be worshipped in the same way in Argentina Lyon treble & England heartbreak: The full story behind Lucy Bronze's dramatic 2019 Liverpool v Man City is now the league's biggest rivalry and the bitterness is growing Megan Rapinoe: Born & brilliant in the U.S.A. The stage fright was apparent in the initial 20 minutes as USA stamped their authority on the game from the get go. The Americans were physically dominant against the wide-eyed Indians who were pinned in their defensive half and gave the ball away cheaply with aimless long balls and misplaced passes whenever they got an opportunity to move forward. But once the nervous initial phase passed, India started to get on the ball more often and what was pleasing to see was that the team was attempting to play out from the back. The central defenders, Jitendra Singh and Anwar Ali, always looked for options to pass the ball than hoof it clear the first time – something which is very strange when it comes to Indian teams on all levels. While this was a heartening sight, coach Luis Norton de Matos has to be praised for the defensive organisation of the team. USA were always expected to dominate the team but India's defensive line was well drilled by the Portuguese tactician who was forced to play a makeshift rightback in Rahul KP.The Americans, apart from two early chances during that jittery period, could not really carve India open and Josh Sargent, their star forward who has four FIFA U20 World Cup goals to his credit, was largely kept quiet. Sargent and co. were caught offside many a times as they struggled to break down a disciplined back line.It has to be noted that India did not concede a goal from open play until the 84th minute and that was a result of a quick counter after a glorious chance for India at the other end. The first, a penalty, and the second goal, from a corner, came from set pieces which highlighted how well drilled the Indian team was at the back. Even the first goal came from a loose clearance that presented USA the opportunity to get into the box and draw a careless foul from Jitendra Singh, who turned away in anguish.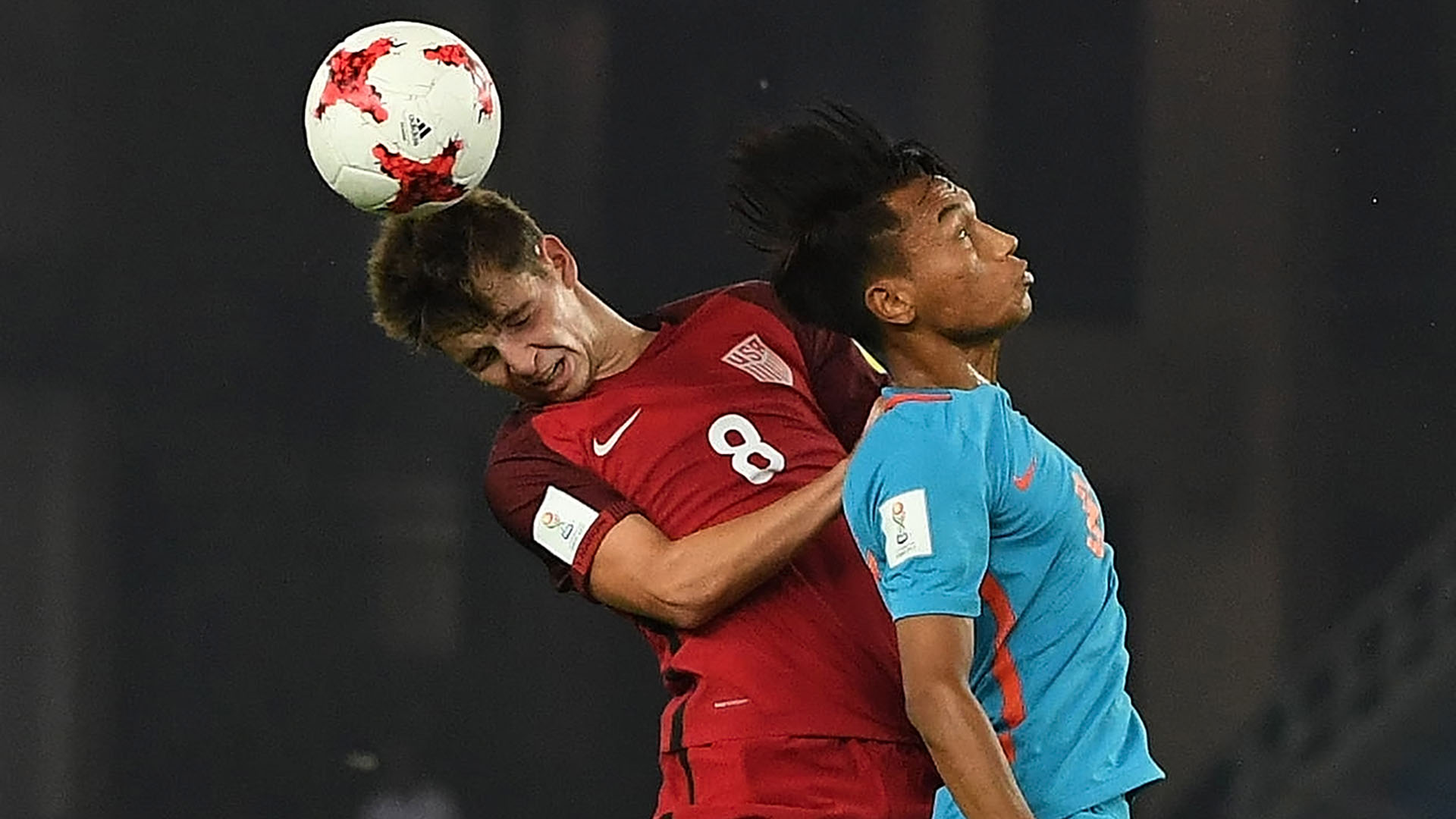 When one might have thought the floodgates would open for the US team after that goal, which came in the 30th minute, Indian team showed immense character to bounce back and finish the half strongly. In fact, Komal Thatal and Aniket Jadhav did create some openings in the final 10 minutes of the first half, during which the latter registered India's first shot of the match. Also, India had a distinctly better second half during which Komal Thatal showed some glimpses of his talent. But even more important was the fact that the team did not look tired at all, even during the final phases of the game. Obviously, stamina was something Norton de Matos worked on before the tournament and it was heartening to see the players run their hearts out the entire ninety minutes. 
As far as individual performances go, there were many positives for India. Dheeraj Singh in goal made some crucial saves but his most impressive aspect from Friday was the game awareness he showed. The Manipuri lad was decisive in his actions and was always looking for early runners to release when he gets the ball. Skipper Amarjit Singh also deserves a mention for tireless running in midfield. He did a lot of chasing and tackling, being the anchor in a midfield which did not see much of the ball, and always presented an option for his defenders when India were trying to construct a move. Komal Thatal was a livewire on the left wing and only his final deliveries were a slight letdown while Anwar Ali in central defence looked a calm and cool customer. The tall Punjabi lad was a picture of confidence in defence and could have scored a goal for India during a set-piece when he smashed a shot on to the cross bar. In the end, India can hold their heads high and look forward to at least two more outings on the grandest stage in youth football. For, there is no shame in a 3-0 defeat against a physically and technically superior team who found it hard to carve a defensively defiant India apart, as they would have hoped to.Putting all that aside, the story of the night was that India have made their first ever World Cup appearance across all age groups and the result cannot take away that buoyant feeling one experiences.